Electric Fly Swatter - 1500 Volts
Electric Fly Swatter will easily kill all flying insects such as mosquitos, flies, and gnats, just by waving at them with the electric fly swatter. And, the Electric Fly Swatter is small enough to take with you, wherever you go. The output power is relatively low, constituting no real hazard to humans or pets. The Electric Fly Swatter has no smell, and contains no poisonous or harmful materials. However, the net will become hot when activated, so please keep away from your skin, and from children. Electric Fly Swatter is safe for indoor or outdoor use. Electric Fly Swatter is praised as the most effective, convenient, and hygienic insect terminator, as it leaves no smudge, smear or mess to clean up after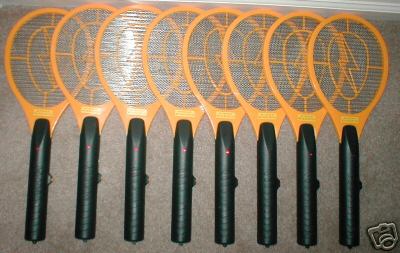 The battery operated fly swatter leaves no messy squished bugs
This is not your regular weak "AA" powered electronic bug zapper. Our Electronic Bug Zapper uses 2 "D" batteries which gives off a powerful 1,500 bug exploding volts!
Flying insects, we have been annoyed since day one by these. Running around trying to find a means to squash them!. Now this patented Electric Fly Swatter kills/electrocutes all flying insects such as mosquito's, flies, gnats on contact, "just by waving the bug swatter at them." Any insect really!.
It looks like a small tennis racket. A must for the home and garden! You can take the Electric Fly Swatter anywhere you go such as camping, the BBQ, beach, and your fishing trip. No more chasing down flying insects, just zap them with the Electric Fly Swatter with a simple wave!

The electronic fly swatter instantly kill flies and mosquitoes just by touching
The output power is relatively low, constituting no real hazard to humans or pets at all. Electric Fly Swatter kills insects upon contact when activated.

The Electric Fly Swatter has no smell, no poison or harmful materials.

The net will become hot when activated, so please keep away from skin and children. This is not a toy.
Just zap the flying bugs with a simple wave of the Electric Fly Swatter
Electric Fly Swatter Works Great On Flies And Mosquito's

Our amazing electric fly swatter gives off 1500 volts
Electric Fly Swatter Features:

On/Off Button. Press button to activate net /release button to de-activate net. Red light indicates net is 'hot' (on).
Dimensions: 18" L x 6.25" W x 1" H
Extremely light weight
Takes 2 "D" batteries and gives off a 1500 volt charge
Simply push the button on handle to zap away those annoying bugs.
Kill Flies Instantly!
Portable Zapper
Take it Anywhere!
My boss got this for us a few months ago and we have had fun ever since. This little Electric Fly Swatter is easy to use. When you actually hit a bug, it explodes. You actually hear a "pop" and see a little smoke some times. If you touch it with your hand, you may get a little shock (nothing big, like licking a 9v battery) I think it used 2 "D" batteries and they last very long. The newer the battery, the louder the pop.

Take advantage of the Electronic Bug Zapper special price this week!
Your electric fly swatter is shipped out same day by USPS
Allow 3-4 days for delivery with tracking

All major credit cards accepted including Visa, Mastercard & American Express
100% Secure Ordering
You'll never have to worry about your credit card information if you order from our site.
Every time you complete an order form, your data is encrypted in a secure manner.
Security measures are in place to protect the loss, misuse and alteration of the
information you submit to our site.
Your electric fly swatter will be shipped out same day ordered by USPS delivery