Spiders
Spiders (order Araneae) are air-breathing arthropods that have eight legs, chelicerae with fangs generally able to inject venom, and spinnerets that extrude silk. They are the largest order of arachnids and rank seventh in total species diversity among all orders of organisms. Spiders are found worldwide on every continent except for Antarctica, and have become established in nearly every habitat with the exceptions of air and sea colonization. As of July 2019, at least 48,200 spider species, and 120 families have been recorded by taxonomists. However, there has been dissension within the scientific community as to how all these families should be classified, as evidenced by the over 20 different classifications that have been proposed since 1900.
Anatomically, spiders (as with all arachnids) differ from other arthropods in that the usual body segments are fused into two tagmata, the prosoma, or cephalothorax, and opisthosoma, or abdomen, and joined by a small, cylindrical pedicel (however, as there is currently neither paleontological nor embryological evidence that spiders ever had a separate thorax-like division, there exists an argument against the validity of the term cephalothorax, which means fused cephalon (head) and the thorax. Similarly, arguments can be formed against use of the term abdomen, as the opisthosoma of all spiders contains a heart and respiratory organs, organs atypical of an abdomen). Unlike insects, spiders do not have antennae. In all except the most primitive group, the Mesothelae, spiders have the most centralized nervous systems of all arthropods, as all their ganglia are fused into one mass in the cephalothorax. Unlike most arthropods, spiders have no extensor muscles in their limbs and instead extend them by hydraulic pressure.
Their abdomens bear appendages that have been modified into spinnerets that extrude silk from up to six types of glands. Spider webs vary widely in size, shape and the amount of sticky thread used. It now appears that the spiral orb web may be one of the earliest forms, and spiders that produce tangled cobwebs are more abundant and diverse than orb-web spiders. Spider-like arachnids with silk-producing spigots appeared in the Devonian period about 386 million years ago, but these animals apparently lacked spinnerets. True spiders have been found in Carboniferous rocks from 318 to 299 million years ago, and are very similar to the most primitive surviving suborder, the Mesothelae. The main groups of modern spiders, Mygalomorphae and Araneomorphae, first appeared in the Triassic period, before 200 million years ago.
The species Bagheera kiplingi was described as herbivorous in 2008, but all other known species are predators, mostly preying on insects and on other spiders, although a few large species also take birds and lizards. It is estimated that the world's 25 million tons of spiders kill 400–800 million tons of prey per year. Spiders use a wide range of strategies to capture prey: trapping it in sticky webs, lassoing it with sticky bolas, mimicking the prey to avoid detection, or running it down. Most detect prey mainly by sensing vibrations, but the active hunters have acute vision, and hunters of the genus Portia show signs of intelligence in their choice of tactics and ability to develop new ones. Spiders' guts are too narrow to take solids, so they liquefy their food by flooding it with digestive enzymes. They also grind food with the bases of their pedipalps, as arachnids do not have the mandibles that crustaceans and insects have.
To avoid being eaten by the females, which are typically much larger, male spiders identify themselves to potential mates by a variety of complex courtship rituals. Males of most species survive a few matings, limited mainly by their short life spans. Females weave silk egg-cases, each of which may contain hundreds of eggs. Females of many species care for their young, for example by carrying them around or by sharing food with them. A minority of species are social, building communal webs that may house anywhere from a few to 50,000 individuals. Social behavior ranges from precarious toleration, as in the widow spiders, to co-operative hunting and food-sharing. Although most spiders live for at most two years, tarantulas and other mygalomorph spiders can live up to 25 years in captivity.
While the venom of a few species is dangerous to humans, scientists are now researching the use of spider venom in medicine and as non-polluting pesticides. Spider silk provides a combination of lightness, strength and elasticity that is superior to that of synthetic materials, and spider silk genes have been inserted into mammals and plants to see if these can be used as silk factories. As a result of their wide range of behaviors, spiders have become common symbols in art and mythology symbolizing various combinations of patience, cruelty and creative powers. An abnormal fear of spiders is called arachnophobia.
Description
Body plan
Spiders are chelicerates and therefore arthropods. As arthropods they have: segmented bodies with jointed limbs, all covered in a cuticle made of chitin and proteins; heads that are composed of several segments that fuse during the development of the embryo. Being chelicerates, their bodies consist of two tagmata, sets of segments that serve similar functions: the foremost one, called the cephalothorax or prosoma, is a complete fusion of the segments that in an insect would form two separate tagmata, the head and thorax; the rear tagma is called the abdomen or opisthosoma. In spiders, the cephalothorax and abdomen are connected by a small cylindrical section, the pedicel. The pattern of segment fusion that forms chelicerates' heads is unique among arthropods, and what would normally be the first head segment disappears at an early stage of development, so that chelicerates lack the antennae typical of most arthropods. In fact, chelicerates' only appendages ahead of the mouth are a pair of chelicerae, and they lack anything that would function directly as "jaws". The first appendages behind the mouth are called pedipalps, and serve different functions within different groups of chelicerates.
Spiders and scorpions are members of one chelicerate group, the arachnids. Scorpions' chelicerae have three sections and are used in feeding. Spiders' chelicerae have two sections and terminate in fangs that are generally venomous, and fold away behind the upper sections while not in use. The upper sections generally have thick "beards" that filter solid lumps out of their food, as spiders can take only liquid food. Scorpions' pedipalps generally form large claws for capturing prey, while those of spiders are fairly small appendages whose bases also act as an extension of the mouth; in addition, those of male spiders have enlarged last sections used for sperm transfer.
In spiders, the cephalothorax and abdomen are joined by a small, cylindrical pedicel, which enables the abdomen to move independently when producing silk. The upper surface of the cephalothorax is covered by a single, convex carapace, while the underside is covered by two rather flat plates. The abdomen is soft and egg-shaped. It shows no sign of segmentation, except that the primitive Mesothelae, whose living members are the Liphistiidae, have segmented plates on the upper surface.
Feeding, digestion and excretion
Uniquely among chelicerates, the final sections of spiders' chelicerae are fangs, and the great majority of spiders can use them to inject venom into prey from venom glands in the roots of the chelicerae. The families Uloboridae and Holarchaeidae, and some Liphistiidae spiders, have lost their venom glands, and kill their prey with silk instead. Like most arachnids, including scorpions, spiders have a narrow gut that can only cope with liquid food and two sets of filters to keep solids out. They use one of two different systems of external digestion. Some pump digestive enzymes from the midgut into the prey and then suck the liquified tissues of the prey into the gut, eventually leaving behind the empty husk of the prey. Others grind the prey to pulp using the chelicerae and the bases of the pedipalps, while flooding it with enzymes; in these species, the chelicerae and the bases of the pedipalps form a preoral cavity that holds the food they are processing.
The stomach in the cephalothorax acts as a pump that sends the food deeper into the digestive system. The midgut bears many digestive ceca, compartments with no other exit, that extract nutrients from the food; most are in the abdomen, which is dominated by the digestive system, but a few are found in the cephalothorax.
Most spiders convert nitrogenous waste products into uric acid, which can be excreted as a dry material. Malphigian tubules ("little tubes") extract these wastes from the blood in the hemocoel and dump them into the cloacal chamber, from which they are expelled through the anus. Production of uric acid and its removal via Malphigian tubules are a water-conserving feature that has evolved independently in several arthropod lineages that can live far away from water, for example the tubules of insects and arachnids develop from completely different parts of the embryo. However, a few primitive spiders, the suborder Mesothelae and infraorder Mygalomorphae, retain the ancestral arthropod nephridia ("little kidneys"), which use large amounts of water to excrete nitrogenous waste products as ammonia.
Central nervous system
The basic arthropod central nervous system consists of a pair of nerve cords running below the gut, with paired ganglia as local control centers in all segments; a brain formed by fusion of the ganglia for the head segments ahead of and behind the mouth, so that the esophagus is encircled by this conglomeration of ganglia. Except for the primitive Mesothelae, of which the Liphistiidae are the sole surviving family, spiders have the much more centralized nervous system that is typical of arachnids: all the ganglia of all segments behind the esophagus are fused, so that the cephalothorax is largely filled with nervous tissue and there are no ganglia in the abdome in the Mesothelae, the ganglia of the abdomen and the rear part of the cephalothorax remain unfused.
Despite the relatively small central nervous system, some spiders (like Portia) exhibit complex behaviour, including the ability to use a trial-and-error approach
Sense organs
Eyes
Spiders have primarily four pairs of eyes on the top-front area of the cephalothorax, arranged in patterns that vary from one family to another. The principal pair at the front are of the type called pigment-cup ocelli ("little eyes"), which in most arthropods are only capable of detecting the direction from which light is coming, using the shadow cast by the walls of the cup. However, in spiders these eyes are capable of forming images. The other pairs, called secondary eyes, are thought to be derived from the compound eyes of the ancestral chelicerates, but no longer have the separate facets typical of compound eyes. Unlike the principal eyes, in many spiders these secondary eyes detect light reflected from a reflective tapetum lucidum, and wolf spiders can be spotted by torchlight reflected from the tapeta. On the other hand, jumping spiders' secondary eyes have no tapeta.
Other differences between the principal and secondary eyes are that the latter have rhabdomeres that point away from incoming light, just like in vertebrates, while the arrangement is the opposite in the former. The principal eyes are also the only ones with eye muscles, allowing them to move the retina. Having no muscles, the secondary eyes are immobile.
Some jumping spiders' visual acuity exceeds by a factor of ten that of dragonflies, which have by far the best vision among insects; in fact the human eye is only about five times sharper than a jumping spider's. They achieve this by a telephotographic series of lenses, a four-layer retina and the ability to swivel their eyes and integrate images from different stages in the scan. The downside is that the scanning and integrating processes are relatively slow.
There are spiders with a reduced number of eyes. Of these, those with six eyes (such as Periegops suterii) are the most numerous and are missing a pair of eyes on the anterior median line; other species have four eyes and some just two. Cave dwelling species have no eyes, or possess vestigial eyes incapable of sight.
Other senses
As with other arthropods, spiders' cuticles would block out information about the outside world, except that they are penetrated by many sensors or connections from sensors to the nervous system. In fact, spiders and other arthropods have modified their cuticles into elaborate arrays of sensors. Various touch sensors, mostly bristles called setae, respond to different levels of force, from strong contact to very weak air currents. Chemical sensors provide equivalents of taste and smell, often by means of setae. An adult Araneus may have up to 1,000 such chemosensitive setae, most on the tarsi of the first pair of legs. Males have more chemosensitive bristles on their pedipalps than females. They have been shown to be responsive to sex pheromones produced by females, both contact and air-borne. The jumping spider Evarcha culicivora uses the scent of blood from mammals and other vertebrates, which is obtained by capturing blood-filled mosquitoes, to attract the opposite sex. Because they are able to tell the sexes apart, it is assumed the blood scent is mixed with pheromones. Spiders also have in the joints of their limbs slit sensillae that detect force and vibrations. In web-building spiders, all these mechanical and chemical sensors are more important than the eyes, while the eyes are most important to spiders that hunt actively.
Like most arthropods, spiders lack balance and acceleration sensors and rely on their eyes to tell them which way is up. Arthropods' proprioceptors, sensors that report the force exerted by muscles and the degree of bending in the body and joints, are well-understood. On the other hand, little is known about what other internal sensors spiders or other arthropods may have
Locomotion
Each of the eight legs of a spider consists of seven distinct parts. The part closest to and attaching the leg to the cephalothorax is the coxa; the next segment is the short trochanter that works as a hinge for the following long segment, the femur; next is the spider's knee, the patella, which acts as the hinge for the tibia; the metatarsus is next, and it connects the tibia to the tarsus (which may be thought of as a foot of sorts); the tarsus ends in a claw made up of either two or three points, depending on the family to which the spider belongs. Although all arthropods use muscles attached to the inside of the exoskeleton to flex their limbs, spiders and a few other groups still use hydraulic pressure to extend them, a system inherited from their pre-arthropod ancestors. The only extensor muscles in spider legs are located in the three hip joints (bordering the coxa and the trochanter). As a result, a spider with a punctured cephalothorax cannot extend its legs, and the legs of dead spiders curl up. Spiders can generate pressures up to eight times their resting level to extend their legs, and jumping spiders can jump up to 50 times their own length by suddenly increasing the blood pressure in the third or fourth pair of legs. Although larger spiders use hydraulics to straighten their legs, unlike smaller jumping spiders they depend on their flexor muscles to generate the propulsive force for their jumps.
Most spiders that hunt actively, rather than relying on webs, have dense tufts of fine bristles between the paired claws at the tips of their legs. These tufts, known as scopulae, consist of bristles whose ends are split into as many as 1,000 branches, and enable spiders with scopulae to walk up vertical glass and upside down on ceilings. It appears that scopulae get their grip from contact with extremely thin layers of water on surfaces. Spiders, like most other arachnids, keep at least four legs on the surface while walking or running
Silk production
The abdomen has no appendages except those that have been modified to form one to four (usually three) pairs of short, movable spinnerets, which emit silk. Each spinneret has many spigots, each of which is connected to one silk gland. There are at least six types of silk gland, each producing a different type of silk.
Silk is mainly composed of a protein very similar to that used in insect silk. It is initially a liquid, and hardens not by exposure to air but as a result of being drawn out, which changes the internal structure of the protein. It is similar in tensile strength to nylon and biological materials such as chitin, collagen and cellulose, but is much more elastic. In other words, it can stretch much further before breaking or losing shape.
Some spiders have a cribellum, a modified spinneret with up to 40,000 spigots, each of which produces a single very fine fiber. The fibers are pulled out by the calamistrum, a comblike set of bristles on the jointed tip of the cribellum, and combined into a composite woolly thread that is very effective in snagging the bristles of insects. The earliest spiders had cribella, which produced the first silk capable of capturing insects, before spiders developed silk coated with sticky droplets. However, most modern groups of spiders have lost the cribellum.
Even species that do not build webs to catch prey use silk in several ways: as wrappers for sperm and for fertilized eggs; as a "safety rope"; for nest-building; and as "parachutes" by the young of some species
Size
Spiders occur in a large range of sizes. The smallest, Patu digua from Colombia, are less than 0.37 mm (0.015 in) in body length. The largest and heaviest spiders occur among tarantulas, which can have body lengths up to 90 mm (3.5 in) and leg spans up to 250 mm (9.8 in)
Coloration
Only three classes of pigment (ommochromes, bilins and guanine) have been identified in spiders, although other pigments have been detected but not yet characterized. Melanins, carotenoids and pterins, very common in other animals, are apparently absent. In some species, the exocuticle of the legs and prosoma is modified by a tanning process, resulting in a brown coloration. Bilins are found, for example, in Micrommata virescens, resulting in its green color. Guanine is responsible for the white markings of the European garden spider Araneus diadematus. It is in many species accumulated in specialized cells called guanocytes. In genera such as Tetragnatha, Leucauge, Argyrodes or Theridiosoma, guanine creates their silvery appearance. While guanine is originally an end-product of protein metabolism, its excretion can be blocked in spiders, leading to an increase in its storage. Structural colors occur in some species, which are the result of the diffraction, scattering or interference of light, for example by modified setae or scales. The white prosoma of Argiope results from bristles reflecting the light, Lycosa and Josa both have areas of modified cuticle that act as light reflectors.
While in many spiders color is fixed throughout their lifespan, in some groups, color may be variable in response to environmental and internal conditions. Choice of prey may be able to alter the color of spiders. For example, the abdomen of Theridion grallator will become orange if the spider ingests certain species of Diptera and adult Lepidoptera, but if it consumes Homoptera or larval Lepidoptera, then the abdomen becomes green. Environmentally induced color changes may be morphological (occurring over several days) or physiological (occurring near instantly). Morphological changes require pigment synthesis and degradation. In contrast to this, physiological changes occur by changing the position of pigment-containing cells. An example of morphological color changes is background matching. Misumena vatia for instance can change its body color to match the substrate it lives on which makes it more difficult to be detected by prey. An example of physiological color change is observed in Cyrtophora cicatrosa, which can change its body color from white to brown near instantly
Defense
There is strong evidence that spiders' coloration is camouflage that helps them to evade their major predators, birds and parasitic wasps, both of which have good color vision. Many spider species are colored so as to merge with their most common backgrounds, and some have disruptive coloration, stripes and blotches that break up their outlines. In a few species, such as the Hawaiian happy-face spider, Theridion grallator, several coloration schemes are present in a ratio that appears to remain constant, and this may make it more difficult for predators to recognize the species. Most spiders are insufficiently dangerous or unpleasant-tasting for warning coloration to offer much benefit. However, a few species with powerful venom, large jaws or irritant bristles have patches of warning colors, and some actively display these colors when threatened.
Many of the family Theraphosidae, which includes tarantulas and baboon spiders, have urticating hairs on their abdomens and use their legs to flick them at attackers. These bristles are fine setae (bristles) with fragile bases and a row of barbs on the tip. The barbs cause intense irritation but there is no evidence that they carry any kind of venom. A few defend themselves against wasps by including networks of very robust threads in their webs, giving the spider time to flee while the wasps are struggling with the obstacles. The golden wheeling spider, Carparachne aureoflava, of the Namibian desert escapes parasitic wasps by flipping onto its side and cartwheeling down sand dunes
Socialization
A few spider species that build webs live together in large colonies and show social behavior, although not as complex as in social insects. Anelosimus eximius (in the family Theridiidae) can form colonies of up to 50,000 individuals. The genus Anelosimus has a strong tendency towards sociality: all known American species are social, and species in Madagascar are at least somewhat social. Members of other species in the same family but several different genera have independently developed social behavior. For example, although Theridion nigroannulatum belongs to a genus with no other social species, T. nigroannulatum build colonies that may contain several thousand individuals that co-operate in prey capture and share food. Other communal spiders include several Philoponella species (family Uloboridae), Agelena consociata (family Agelenidae) and Mallos gregalis (family Dictynidae). Social predatory spiders need to defend their prey against kleptoparasites ("thieves"), and larger colonies are more successful in this. The herbivorous spider Bagheera kiplingi lives in small colonies which help to protect eggs and spiderlings. Even widow spiders (genus Latrodectus), which are notoriously cannibalistic, have formed small colonies in captivity, sharing webs and feeding together
Annoyed by biting Spiders?  Try our 3000 volt electric fly swatter
Our extremely powerful 3000 volt electric fly swatter kills flies and insects instantly.  One powerful zap with this bug zapper leaves no mess!
Forget about smashing insects on the walls or scratching your skin raw when you are trying to get some downtime.  Our powerful 3000 volt electric fly swatter takes care of those pesky insects for you.
Whether you are inside your home or relaxing in outside, simply swing our electric fly swatter to get rid of annoying insects.  Our high voltage electric fly swatter takes care of this problem with a delightful sizzle.  The electric fly swatter also features a zapper at the end of the racket to help make swatting insects easy.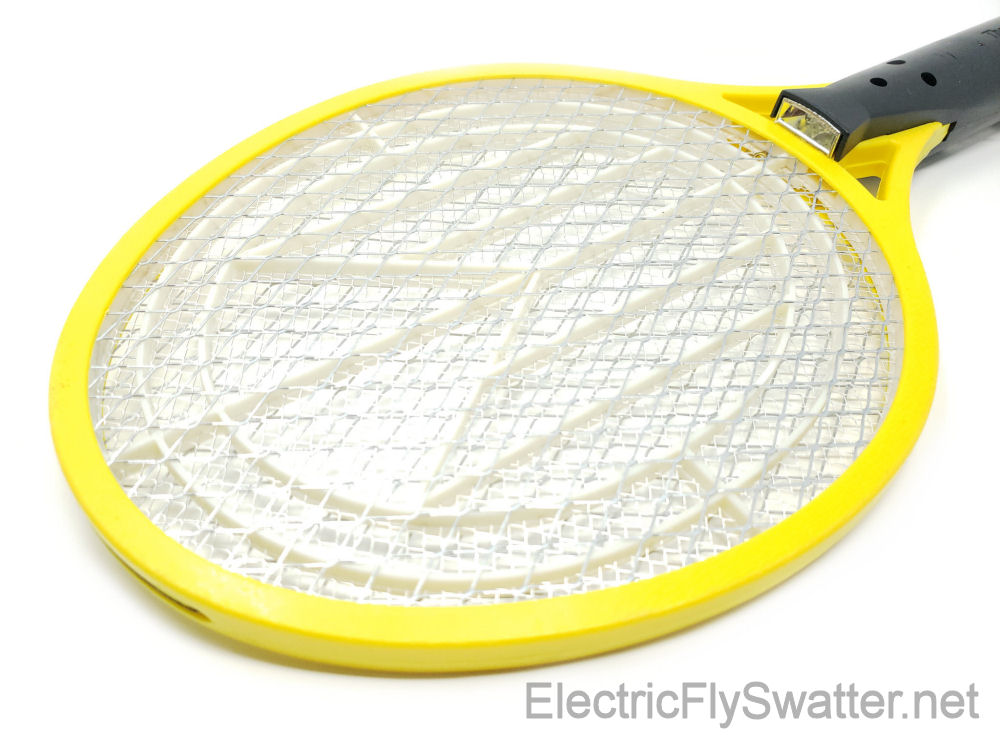 Special Sale only $24.95
Order in the next 29 minutes and get FREE SHIPPING!


Fast same day shipping – 2-3 day delivery
Perfect for killing fleas on dogs and cats
Our electric fly zapper and swatter make it easy to get rid of all those pesky dog fleas that make your pet uncomfortable.  Simply run the insect zapper over your dog's fur and watch it kill those biting fleas.
For Camping
Camping can now be enjoyable with our electric bug zapper.  Just wave our bug zapper between yourself and the insects to instantly zap them.
Electric Fly Swatter Features
4″ zap strip on the end of the bug zapper racket designed to zap bugs along door frames, sliding in small hard to reach areas and ceiling corners.
Built in LED bug zapper light to zap bugs and mosquitoes at night or in dark corners.
Bait tray attachment which you can set out pieces of meat or fruit to attract insects.
Included hand rope allowing you to hang the indoor bug zapper and automatically zap bugs for as long as you like or to tie around hand for extra grip.
Protective screens on both sides of the electrode to protect you from accidentally shocking your fingers.
Safety drain down system, shutting power down within 10 seconds, so you dont get shocked after the mosquito bug zapper is turned off.
On / off button.  Press the button to activate net / release button to de-activate net.  The red light indicates the net is "hot" (on).
Extremely lightweight 3000 volt bug zapper
Takes 2 "D" batteries and gives off a 3000 volt charge
Our Electric Fly Swatter Kills the following insects on contact
Yellow Jackets
Hornets
Flies
Bed Bugs
Spiders
Fleas
Carpenter Bees
Wasps
Mosquitoes
Houseflies
Gnats
Black Bees
Horse Flies
Deer flies, and many more bugs and insects!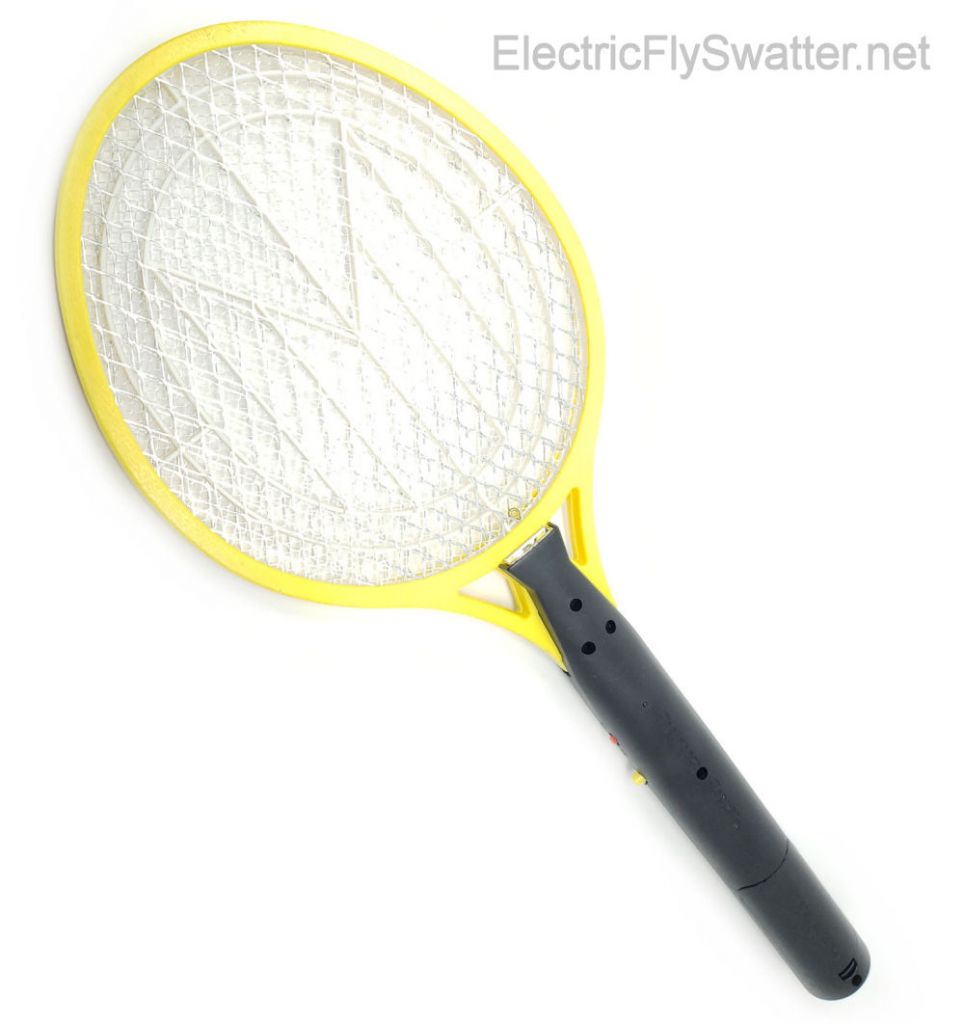 Get rid of pesky insects today!
Electric Fly Swatter Helpful Information
When an irritating insect is flying near you, just hit it, as you would a tennis ball.  There are dual large capacitors that hold 3000 volts of zapping power to kill insects but low amperage that allows alkaline batteries to power hundreds of hours of zapping time.
When a bee, hornet, horse fly etc. is buzzing back and forth near your body, put the zapper head near you, so the head is between you and the insect.  Swing out and away from your body.  If there are bees or flies hovering above your food, put the zapper head between the food and the bees and bring the head up quickly to zap them.
If the insect is in a horizontal corner between the ceiling and the wall, in a vertical corner where two walls meet, on a window, where it meets the frame or under an appliance or furniture, directly up on the ceiling or on the floor, just use the zapping area on the end of the head.  Move slowly until close then move the head quickly.  Slide the head lightly and quickly along the corners.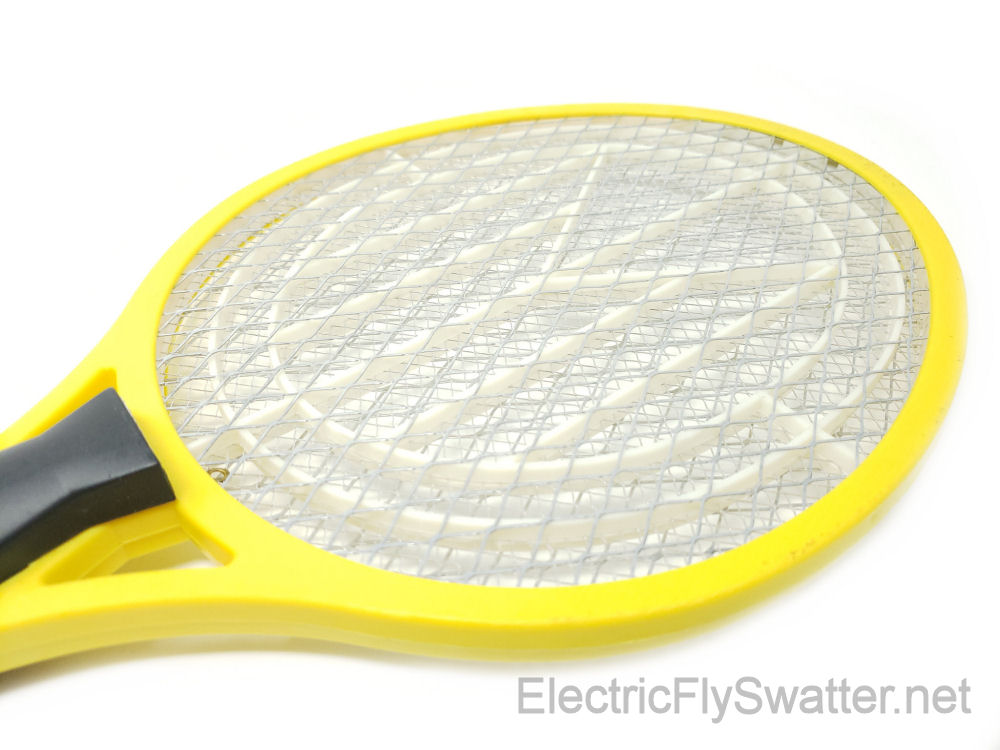 Special Sale only $24.95
Order in the next 29 minutes and get FREE SHIPPING!


Fast same day shipping – 2-3 day delivery
This is a tool, not a toy.  Keep out of reach of children under 8 years old.
Use inside or outside in dry weather.
3000 Volt Fly Swatter – Videos – FAQ